President Bola Ahmed Tinubu has invited David Olatokunbo Alaba to invest in Nigeria, the homeland of the Austrian international footballer's father.
The Nigerian leader made the plea when he addressed Nigerians in Paris on Thursday in his first formal engagement with the diaspora.
Asiwaju Tinubu, who is in the French capital to attend the Global Financing Pact Summit convened by President Emmanuel Macron, thanked Alaba, who captains the Austria national team, for the charity project he funded in Nigeria recently.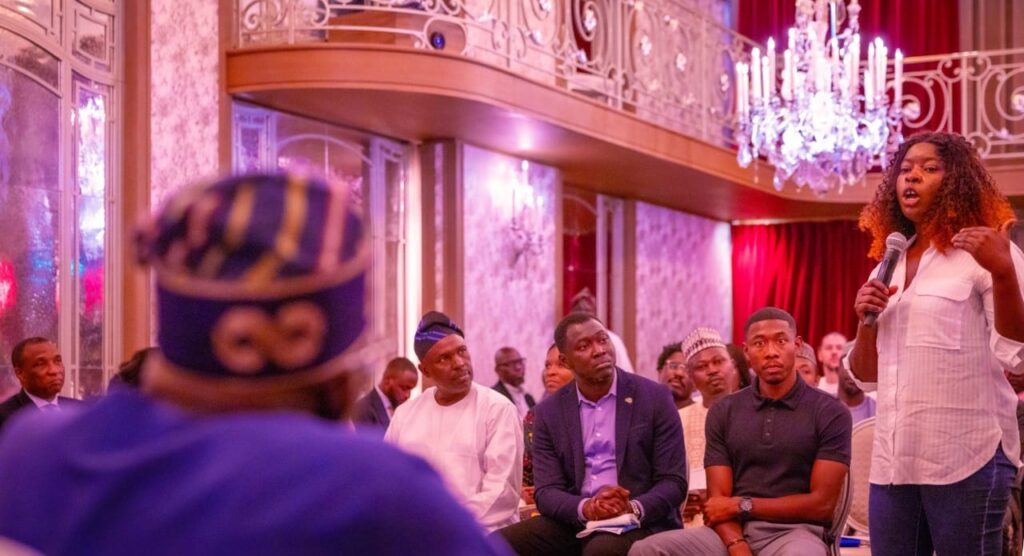 A member of the audience speaks while the president (backing the camera) listens at the interactive session with the Nigerian diaspora community in France/Photo: NiDCOM
Tinubu, who assumed office on 29 May, invited Alaba to invest in Nigeria, assuring him and other Nigerians in the diaspora that the country was safe for investors.
The president said he was committed to reforms that would make Nigeria a favourite destination for international investments in Africa.
Tinubu, who has positively surprised economic watchers by his policy moves since assuming office, including removing fuel subsidy and harmonising the country's multiple exchange rates, has pledged that his administration would expand the country's gross domestic product (GDP) by "not less than 6 per cent".
READ ALSO David Alaba builds sanitary facility in Nigeria
President Tinubu advised prospective diaspora investors not to focus only on the challenges of doing business but also on the unique opportunities for profitable investment in their home country.
David Alaba thanked President Tinubu and Dr Abike Dabiri-Erewa, the Executive Chairman of the Nigerians in Diaspora Commission, for the invitation to attend the event, assuring that he was committed to the progress of Nigeria and would do everything in his power to support the country. He promised to visit Nigeria very soon.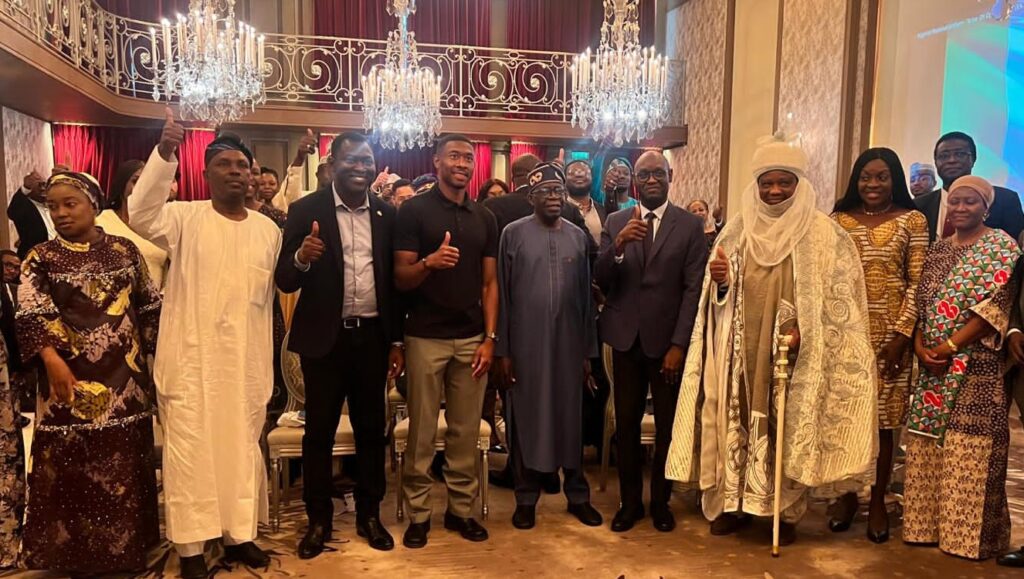 President Tinubu in a group photograph with some of the participants at the event/Photo: NIdcom
The Austrian-Nigerian presented the president with a signed Real Madrid FC number 4 Jersey at the event, organised by Ms Dabiri-Erewa and which is the first formal interaction of the new president with the country's citizens living abroad.
Alaba was born on 24 June 1992 in Vienna to a Nigerian father George, a musician, and mother Gina, a nurse from the Philippines. He has a sister, Rose May Alaba, who is a professional recording artist.

Dr Abike Dabiri-Erewa, the Chairman/CEO of the Nigerians in Diaspora Commission, speaking at the event/Photo: NiDCOM
Alaba is Austria's second youngest player to play for the senior national team, debuting in 2009 as a 17-year-old. He has earned over 90 caps and represented his country at UEFA Euro 2016 and UEFA Euro 2020.
The Austrian-Nigerian is widely regarded as one of the best defenders of his generation.
Oluyemi Ogundele
---
READ ALSO David Alaba's sister to showcase best of Afrobeats to the world with new release