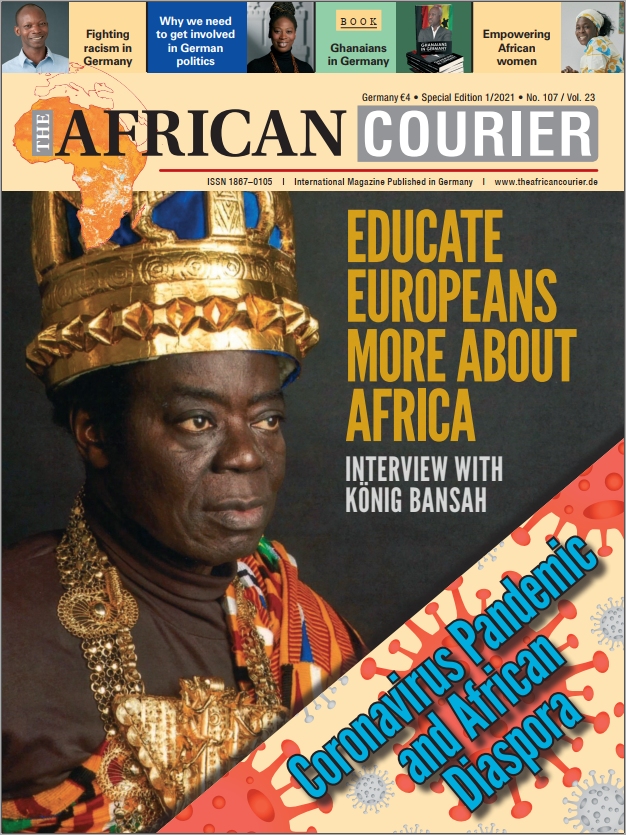 Special Edition 1/2021
Africa, 60 years after; empowering Germany's Black
community; Covid-19 special…
—
This special issue is dedicated to an appraisal of Africa 60 years after
independence from colonial rule, the Covid-19 pandemic and the
empowerment of people of African origin in Germany plus an exclusive
interview with König Bansah.
➤ Our senior contributing editor Jojo Cobbinah, writing from Accra,
Ghana, gives an overall appraisal of the African condition in our
fast-changing world, 60 years after independence from colonial
rule.
➤ Abuja, Nigeria-based award-winning journalist Seun Akioye looks
at African migration to Europe, six decades after the Europeans left
the continent.
➤ The story of the new generation of young vloggers seeking to
transform Africa's image by showing a reality far away from the
stereotype.
➤ Feature: Virginia Wangare Greiner, founder of Maisha e.V.,
a self-help organisation working to improve the situation of African girls
and women.
➤ Interview with Desmond Beddy, initiator of an awards scheme
promoting higher educational achievements among African-origin
youth in Germany.
➤ Fighting racism in Germany. Following the racist killings in
February 2020 in Hanau when a German man gunned down nine
people with a migration background, the federal government set up
a high-level cabinet committee on racism and right-wing
extremism in Germany. The committee has released an interim
report, recommending a catalogue of measures to tackle racism in
the country. We have a report on the committee and the measures.
➤ Supplement on the coronavirus pandemic, edited by Michael Nnaji,
a medical doctor at Berlin Charité hospital, providing empowering
information for Africans living in Germany.
➤ Interview with Céphas Kosi Bansah, master technician, traditional
chief and philanthropist. König Bansah, as he is popularly known
in the German media, talks about how it was when he came to
Germany in 1970, his chieftaincy title and how it has changed his
life, and his activities to improve the situation of his people in
Ghana, among other issues.
Plus other interesting articles..
A copy costs €5 (Germany) and €7 (Europe and International). Order your copy