The Austrian chapter of the Nigerians in Diaspora Organisation Europe (NIDOE) holds a conference on Friday (10 February) in Vienna on how the diaspora can contribute to efforts to end energy poverty in Africa.
With the theme Renewable Energy for Economic Development in Africa: The Role of Remittances, the hybrid event will examine how remittances can be deployed into investment in renewable energy development.
The ongoing global energy crisis has underscored the urgency, as well as the benefits, to scale-up the use of cheaper and cleaner sources of energy. That need is perhaps greatest in Africa where poor energy access is a major contributing factor to poverty.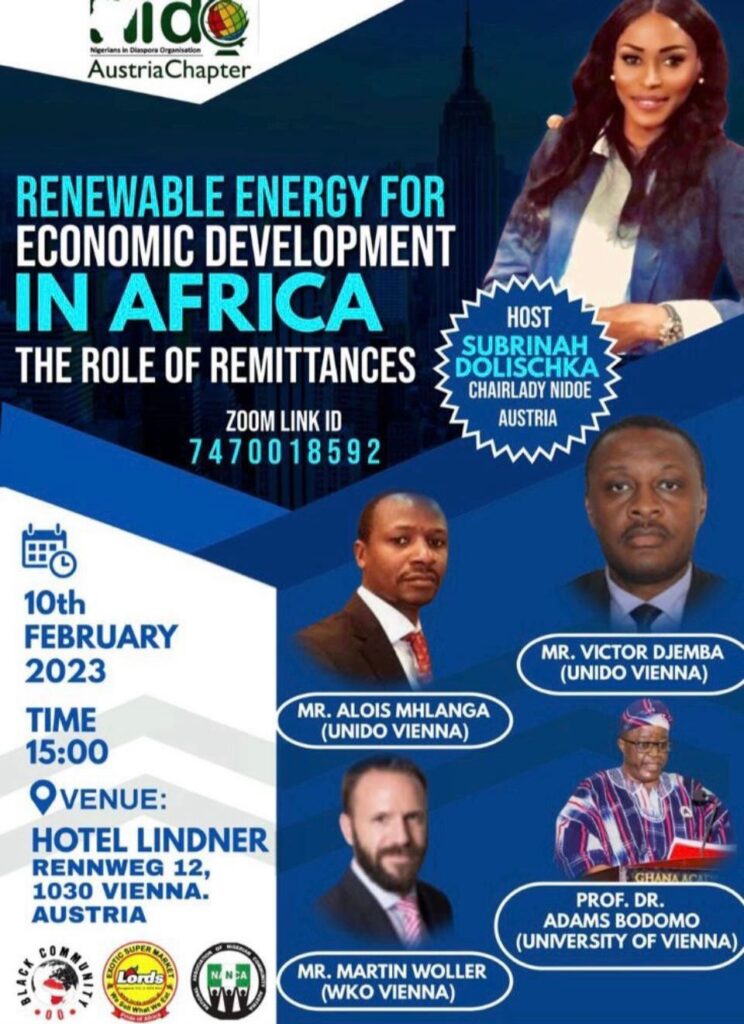 Financing however remains the major obstacle to the widespread application of renewable energy solutions in Africa.
NIDOE Austria believes that remittances, money that Africans living in the diaspora regularly send home, could be invested in renewable energy development in the continent.
The conference therefore presents an opportunity to explore ways in which diaspora remittances can be mobilized for investment in renewable energy technology to make some difference.
The conference will review the trend in diaspora remittances and investment opportunities in energy transition. It will consider potential applications of renewable energy that can facilitate and even hasten the continent's development process.
Among the experts to speak at the event are Prof Adams Bodomo of the University of Vienna, Victor Djemba and Alois Mhlanga of the United Nations Industrial Development Organisation Vienna, and Martin Woller of WKO Vienna.
The conference, which will be physical and virtual (hybrid), will feature the presentations by experts as well as a roundtable during which the experts engage in a conversation with the moderator and members of the audience.
Austin Ohaegbu
To join the conference virtually, here is the Zoom access information:
Link: https://zoom.us/j/7470018592
Meeting ID: 747 001 8592