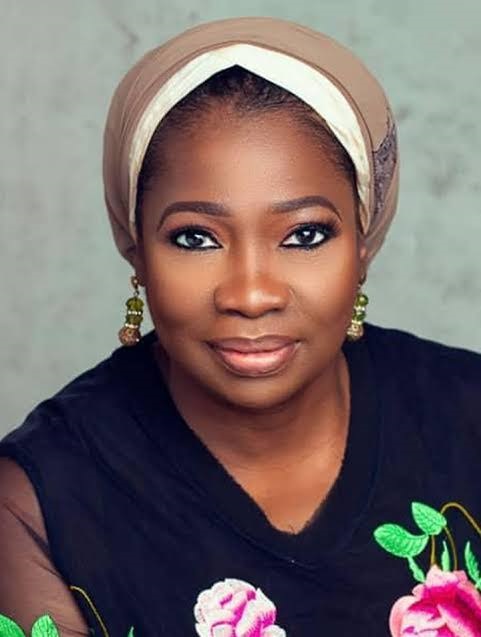 The Chairman/CEO of the Nigerians in Diaspora Commission (NIDCOM), Dr Abike Dabiri-Erewa, recently clocked 61. Rosemary Moribirin pays tribute to a woman who through her work has significantly raised the profile of Nigerians living in the diaspora in their homeland
——-
In the grand tapestry of life, we gather to celebrate a luminous figure in Nigeria's political realm, Dr. (Hon) Kafayat Abike Oloruntoyin Dabiri-Erewa, who clocks 61 years on the surface of the earth on 11 October 2023.
Her life story shines brightly as a beacon of a natural leader, a humanist and a trail blazer, illuminating the hearts and minds of whoever comes her way.
A Trailblazing Odyssey:
Right from her youthful days, she has demonstrated her acumen as a born natural leader with no impossibility in her dictionary. Prior to her sojourn in politics, the world witnessed her glorious years at NTA [Nigerian Television Authority] where she blossomed in whatever capacity for 15 years as an accomplished broadcaster.
As she journeyed into the world of politics with her election as a member of the Nigerian Federal House of Representatives, representing the Ikorodu Federal Constituency of Lagos State for three consecutive terms (2003 to 2015), she also excelled and demonstrated her prowess as a proactive legislator, passionately championing various causes, from human rights to social justice and economic empowerment.
Even though in opposition, as a trail blazer, she chaired Committees on Media and Publicity as well as Diaspora Affairs which was hitherto not known in the parliament. Her time in the House of Representatives garnered her admiration from all corners, transcending party lines, and making her a unifying force in Nigeria's intricate political landscape.
Empowering the Global Nigerian Family:
It was therefore not surprising that the then President Muhammadu Buhari appointed her as the Senior Special Assistant to the President on Diaspora and Foreign Relations in 2016. With the final signing into law of the prolonged bill on Nigerians in Diaspora Commission, which she spearheaded while in the parliament, she was appointed the first Chairman/CEO of the Commission (NIDCOM) in 2019. Under her wise leadership, NIDCOM has evolved into a dynamic catalyst, fostering engagement and empowerment among the Nigerian diaspora.
She has initiated programs that harness the vast potential of Nigerians abroad, nurturing economic partnerships, fostering cultural exchanges, and extending a helping hand to fellow Nigerians in the global community.
Championing Equitable Gender Dynamics:
Dr. Abike Dabiri-Erewa has been a steadfast advocate for gender equality and women's rights throughout her illustrious career. Her efforts encompass advocating for transformative legislation that empowers women economically, socially and politically. Her unwavering advocacy has sowed the seeds of inspiration for a new generation of women leaders, contributing significantly to a more inclusive and just Nigerian society.
Triumphing Over Adversity:
In a landscape fraught with challenges, Dabiri-Erewa's journey stands as a testament to resilience. She has navigated the complexities of Nigerian politics, administrative intricacies, and societal expectations with unwavering determination. Through her unyielding resolve, she has emerged as a source of inspiration for emerging leaders.
Awards and Commendations:
Dr Abike Dabiri-Erewa's exceptional contributions have garnered well-deserved recognition. She has received prestigious national awards, recognising her dedication, leadership and unwavering commitment to Nigeria's advancement. The national honour, the Officer of the Order of the Niger (OON) award, bestowed upon her by Former President Muhammadu Buhari coincidently on her 60th birthday was very significant, reflecting her remarkable dedication to Nigeria's interests both at home and abroad.
Dabiri-Erewa's receipt of the OON award and that of the Honorary Doctoral award from the Lagos State University also in 2022, symbolises her lasting impact on Nigeria's political, economic and social trajectory, underscoring her role as a visionary guide and a catalyst of progress. Till date, I do not know any dead or living female Nigerian that has garnered the harvest of different awards and recognitions numbering about 600 and still counting like Hon. Abike Dabiri-Erewa.
Catalyst for Economic Empowerment:
Dr Abike Dabiri-Erewa's imprint on Nigeria's economic landscape is profound. During her time in the House of Representatives, she spearheaded initiatives aimed at fostering economic growth, job creation and entrepreneurial spirit.
Her commitment to nurturing Small and Medium-sized Enterprises (SMEs) has played a pivotal role in strengthening Nigeria's private sector and diversifying the economy. It is from that background that many economic and investment programmes were replicated at NIDCOM in forms of annual Nigeria Diaspora Investment Summit (NDIS), Diaspora bonds, Diaspora Trust Funds, Diaspora Housing Scheme among several others.
Igniting Diaspora Partnership:
As NIDCOM boss, she recognized early the invaluable resource that the Nigerian diaspora represents for national growth. Her leadership facilitated constructive dialogue, collaboration and investment between the diaspora and the homeland, catalysing partnerships that have bolstered the Nigerian economy across various sectors. At each trip of the President outside the country, she organised a town hall programme where the President interfaces with Nigerians living in that country. Through this initiative, a lot of positive opportunities have been harvested into the country.
Championing Humanitarian Endeavours:
Beyond her formal roles, Dabiri-Erewa's empathy extends to humanitarian endeavours. Her resolute advocacy for the rights of Nigerians facing adversity, both home and abroad, exemplifies her compassion and commitment to generating positive transformation.
Empowering the Next Generation:
Understanding the pivotal role of youth in shaping Nigeria's destiny, Dr Abike Dabiri-Erewa consistently champions initiatives to empower young people. Her support for policies that enhance educational opportunities, skills development and entrepreneurial initiatives has been pivotal in nurturing a new generation of leaders and innovators.
A Bridge in International Relations:
The NiDCOM boss influence extends beyond borders. Her diplomatic efforts have fortified Nigeria's global ties, enhancing its image and fostering cooperation in trade, education, and technology.
Safeguarding Cultural Heritage:
A staunch advocate of cultural preservation, she has ardently championed initiatives that safeguard Nigeria's rich heritage. Her advocacy extends to celebrating the nation's vibrant cultural diversity through festivals, art exhibitions and cultural exchange initiatives.
Voice for the Vulnerable:
Throughout her journey, Dr Abike Dabiri-Erewa has been a vocal advocate for the rights and well-being of marginalized populations. Her commitment to addressing issues like human trafficking, irregular migration, and the challenges faced by Nigerians in conflict zones has garnered widespread respect and admiration.
An Inspirational Legacy:
Her journey epitomizes leadership, resilience and service to the nation. Her legacy serves as a wellspring of inspiration for those striving to effect positive transformation within their communities. Through her trailblazing achievements, she has left an indelible mark on Nigeria's political, social and economic fabric—a mark destined to shape the nation's path for generations to come.
Pioneering the Future:
As Dabiri-Erewa continues to shape Nigeria's narrative, her vision remains steadfast. She envisions a Nigeria where every citizen, regardless of location, gender or background, contributes significantly to the nation's growth. Her legacy extends beyond her accomplishments, encompassing empowerment, unity and a beacon of change within Nigeria and its diaspora.
Dabiri-Erewa's journey embodies the power of leadership, advocacy, and perseverance. Through her achievements, she personifies the spirit of a visionary, using her influence to uplift her fellow citizens and inspire future generations. What else can one say about this youthful and youngish looking grandma than to wish her a blessed and hearty birthday as she attains 61 years on the surface of the earth.
Rosemary Moribirin is of the Media and Public Relations Unit of NIDCOM