The African-German Doctoral Summer School took place for the first time in Hamburg from the 4th to the 9th of September 2023.
Organised by Dr Taiwo Fagbemigun, Dr Adekunle Adedeji, Prof Dr Johanna Buchcik and Stella Kaltenbach with the kind support of Hamburg Research Academy (HRA) and Sozialbehörde Hamburg, the School aims to promote academic and social exchange between researchers with and without an African background.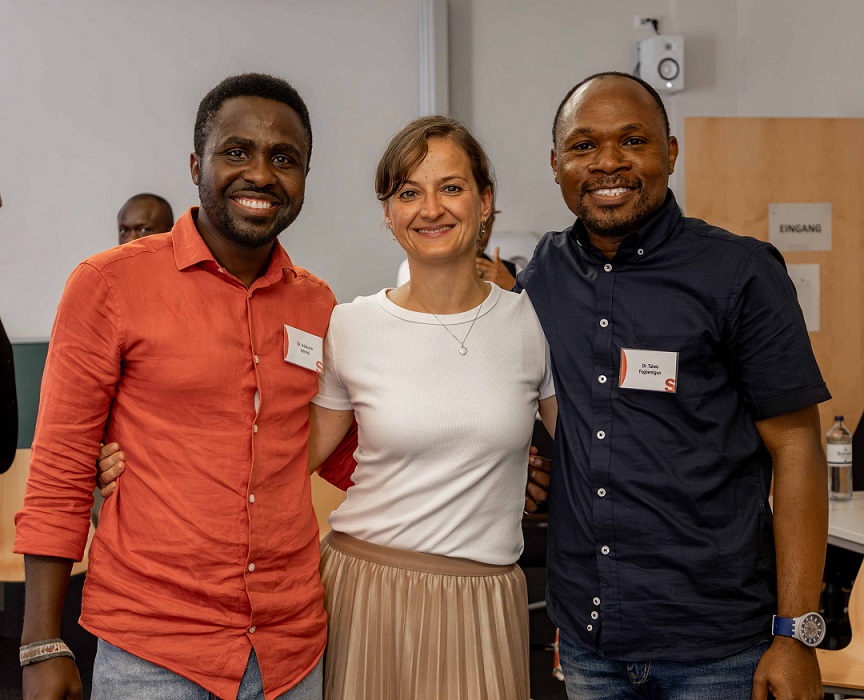 In addition, it supports foreign doctoral students with their social integration in Germany. This is particularly important, as research findings indicate that social integration plays a decisive role in the success of foreign doctoral students and researchers.
The Summer School, which featured a varied program, began with messages of welcome by the organizers, Dr Adekunle Adedeji and Dr Taiwo Fagbemigun, as well as by the head of the Hamburg Research Academy, Elena Krones-Nendza.
This was followed by the first workshop titled Welcome to Germany: Communication in a Diverse Society, delivered by Dr Lydia Radoli – a media lecturer and department head at Daystar University and a research associate in the Department of Culture and Society in the Institute of Advanced Studies at Leuphana University in Lüneburg.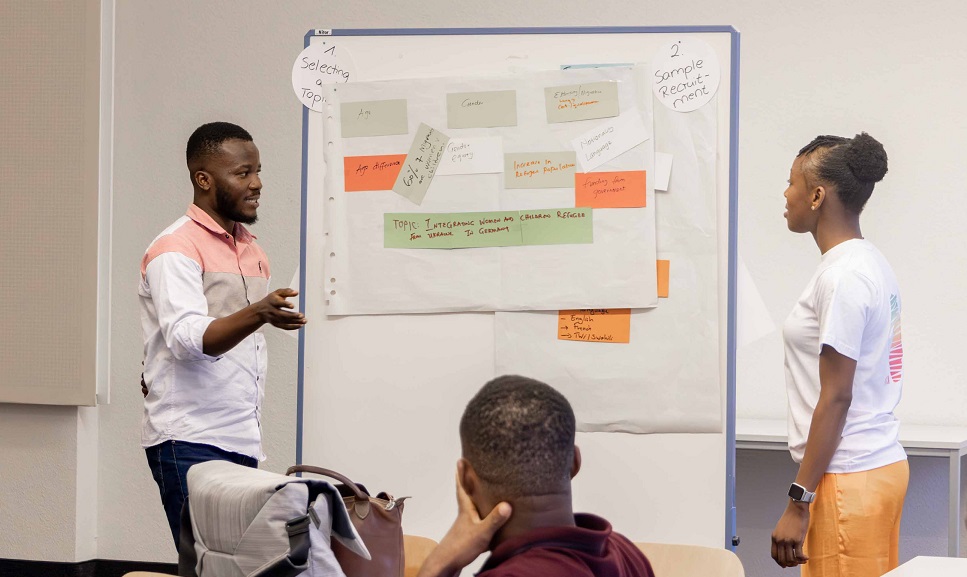 In the following Discipline group meeting, the doctoral students were divided into two groups and had the opportunity to present their doctoral topics to each other. Saskia Hanf-Robert, psychologist, gave an insight into stress research with her seminar on Social, Physical and Mental Health Care. A quick study using the Perceived Stress Scale (PSS) indicated that doctoral students had a high sense of stress.
One-third of the participants were above the threshold for depression. Stress and self-doubt were identified as significant influencing factors. The participants reported feeling under tremendous pressure, intensified by financial worries and adjusting to the new circumstances in Germany.
Subsequent days of the Summer School featured seminars, presentations, workshops and panel discussions by invited trainers and facilitators, namely Mrs Helene Batemona-Abeke, Barrister Iyare Imasi, Saskia Hanf-Robert, Dr Tosin Olonisakin, Dr Emilin Joma da Silva, Dr Isa Elegebde, Hans Ahrens, Dr Ibrahim Muritala, Prof Brando Okolo, Dr Anne Schreiter, Rakesh Kasturi and Prof Dr Louis Henri Seukwa.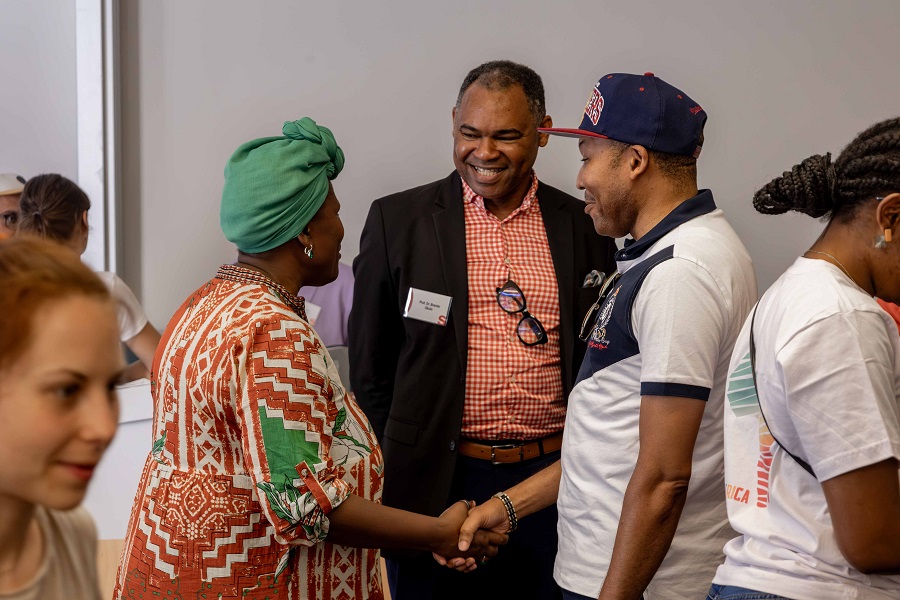 During the various presentations, the participants received tips on how to write a successful dissertation, answers to questions about their doctoral studies, acquired knowledge of the use of Survey tools, the fundamentals of grant proposal writing, project management principles and productivity strategies, social entrepreneurship training, research dissemination methodology, facilitating Africa and African researchers, work-life balance and how to develop an effective career strategy.
To enhance the social integration and participation of participants in Germany, the Managing Director of Aktivoli, Julia Hudy, led an intellectually-stimulating session titled "Migrants' Engagement and Community Participation in Hamburg." In the workshop, she provided valuable insight into the various integration offers and opportunities available for interested persons to volunteer and contribute positively to the integration of migrants in the City of Hamburg.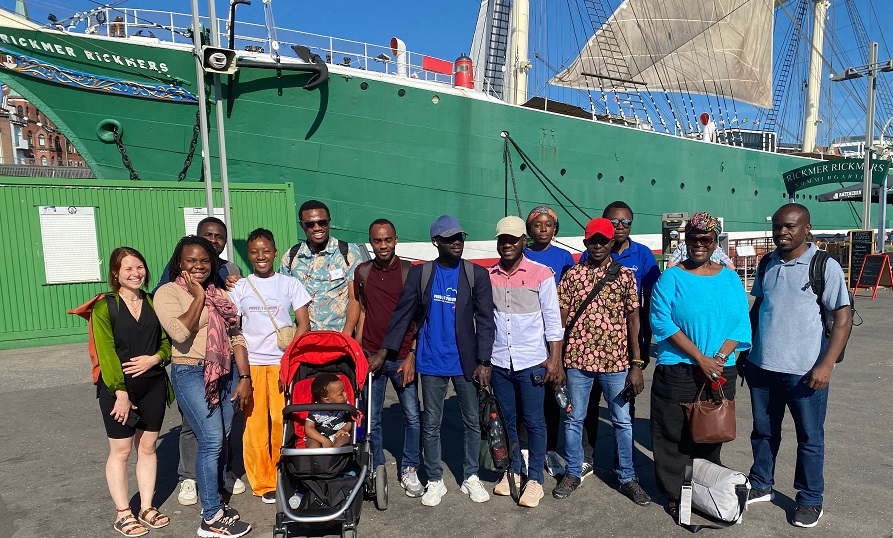 In addition, an excursion (boat trip) and a guided social walk to Elbe Beach, Landungsbrücken and Blankenese was coordinated, offering participants a practical application of their knowledge and enhancing their overall experience.
The 1st African-German Doctoral Summer School ended with a Business, Career and Empowerment Dinner at Afrotopia, which helped to foster professional networking and valuable connections among the participants. The Participants were issued the certificate of participation.
The Summer School was a collaborative project of the Hamburg University of Applied Sciences (HAW), Horizon Resources e.V., and University Medical Center Hamburg-Eppendorf (UKE).
For more information and impressions from the Summer School, please check the official LinkedIn Page of the African-German Doctoral Summer School:
https://www.linkedin.com/showcase/african-german-doctoral-summer-school/?viewAsMember=true