Diplomatic actions taken by the Nigerian government against the incessant xenophobic attacks on her citizens and other foreign nationals living in South Africa may have been futile, as some protesters insisted all foreigners must leave the country.
The crowd of protesters, on Sunday, disrupted a speech being delivered in Johannesburg by Mangosuthu Buthelezi, a Zulu chief and former leader of South Africa's opposition Inkatha Freedom Party.
Buthelezi, who came as a mediator, condemned the attacks. He said it was a violation of human rights and the constitution of South Africa. "Our Constitution enshrines the right to freedom from all forms of violence. That right applies to everyone in South Africa, whether citizens or not," he said.
But, Buthelezi was not allowed to finish his speech before being interrupted by the protesters.
"Foreigners must go back to where they came from," the protesters chanted, wielding Knobkerrie, a weapon used by indigenous people of South Africa.
Violence broke out as they (protesters) marched across Maboneng, Malvern, Cleveland and Jeppestown.
Sowetan Live, a South Africa media, on Monday, reported that two people were killed overnight and five were injured.
Store fronts were said to have been damaged and a building set alight.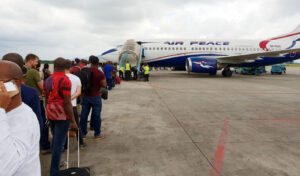 Police spokesperson Capt Kay Makhubela said more than 17 people have been arrested in connection with the violence.
But, the Johannesburg metro police department (JMPD) spokesperson Wayne Minnaar said, "We are still investigating whether it is linked to the violence or not."
Makhubela said protesters also attempted to set fire to a mosque in the area.
"They threw a petrol bomb at the mosque, but it didn't catch fire," he said.
400 Nigerians ready to go home
Meanwhile, the Nigerian Mission in South Africa has said that no fewer than 400 Nigerians living in South Africa had indicated interest to return to Nigeria following the endless xenophobic attacks.
Godwin Adama, Nigeria's Consul General in Johannesburg, disclosed this in a telephone interview with the News Agency of Nigeria (NAN) in Abuja, the country's capital, on Sunday.
READ ALSO Nigeria's ruling party chief calls for takeover of South African companies
Adama said Air Peace, a Nigerian airline, had offered to evacuate those willing to return home.
According to him, the first batch of Nigerians will be repatriated on Wednesday.
"We have more than enough for that aircraft. Over 400 Nigerians have already registered; more are still coming," he said.
The recent xenophobic attacks on Nigerians began, when a South African taxi driver was reportedly killed by a Tanzanian national following a fight.
South African taxi drivers, in reaction, staged a nationwide strike to protest against the employment of foreign drivers.
The protest reportedly degenerated into violence as businesses and homes belonging to foreigners were looted and burnt.
There is high unemployment in South Africa and some citizens of the country feel foreigners from other parts of Africa are taking their jobs.
Many pictures and videos of violent attacks against Nigerians have gone rife. However, some of these footages are misleading and not of the latest xenophobic attacks.
Raphael Adenaike