Our Editor-in-Chief, Femi Awoniyi, was at the live concert of the Afro-Brazilian legend Mateus Aleluia last week and he narrates what he describes as an unforgettable experience
Mateus Aleluia gave a live concert during the week in Berlin. Accompanied by a percussionist, the Afro-Brazilian musician appeared with his daughter Fabiana on piano. It was such a lean lineup, but the performance was big!
The concert, christened 'Deep Bahia', was in the Miriam Mandela auditorium of the superlative Haus der Kulturen der Welt (HKW).
Before the show kicked off, Bonaventure Soh Bejeng Ndikung, the Cameroon-born director of the HKW, had given us a 10-minute introduction of the Afro-Brazilian legend, whetting the appetite of the audience for what was to follow.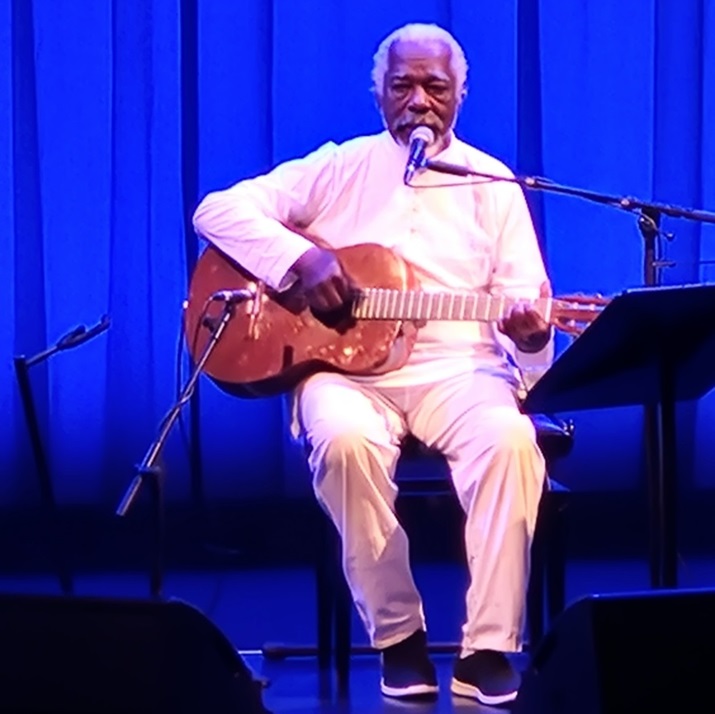 It's one of the most unforgettable concerts that I have attended in more than 30 years. It was not only the songs or the music but also the poetry and the narration that made the concert hard to forget.
Even at 80, Mateus Aleluia's voice was very firm that it filled the concert hall and commanded total attention. I have seen many Black artists on stage but Mateus Aleluia is different, he's a total performer. He narrated stories, he sang songs, he played guitar, he did poetry on stage.
As far as I can remember, this is the first time that I would witness a whole hall of a mainly German audience rise in unison to dance. Mateus Aleluia was simply that irresistible on Tuesday.
Mateus Aleluia sang mainly in Portuguese but he also did some songs in Yoruba. Interestingly, as a Yoruba native speaker from western Nigeria, I could not understand his Yoruba songs outside of a few words, such as Olorun, Olodumare and Orisha. That, of course, is due to the several hundreds of years of forcible separation of the Yorubas in Brazil from the mother continent.
At 80, Mateus Aleluia is in the twilight of his artistic career. Yet his performance in Berlin shows that he still has a whole lot to offer. In fact, one of his latest albums, 'Afrocanto Das Nacoes', earned him a Grammy nomination in 2022.