The eldest daughter of Nigeria's President Bola Ahmed Tinubu will be honoured in the German capital city on 18 November.
Chief (Mrs) Mujidat Folasade Tinubu-Ojo, an astute business woman and indefatigable social entrepreneur, will receive an award for her tireless efforts to promote trade and investment in Nigeria at the 1st Hope Renewal Africa Awards in Berlin.
The event, christened 'International Recognition for Outstanding Contributions to Agricultural Business Development in Nigeria' and jointly organised by AGB Paulas, African Courier Media and German Agribusiness Alliance, aims to promote deeper trade relations between Germany and Nigeria.
Ambrose Okojie, CEO of AGB Paulas, a Germany-based international business facilitation company, said the awards will honour public and private actors who are playing an important role in repositioning Nigeria as an attractive destination for trade and investment, especially in agribusiness.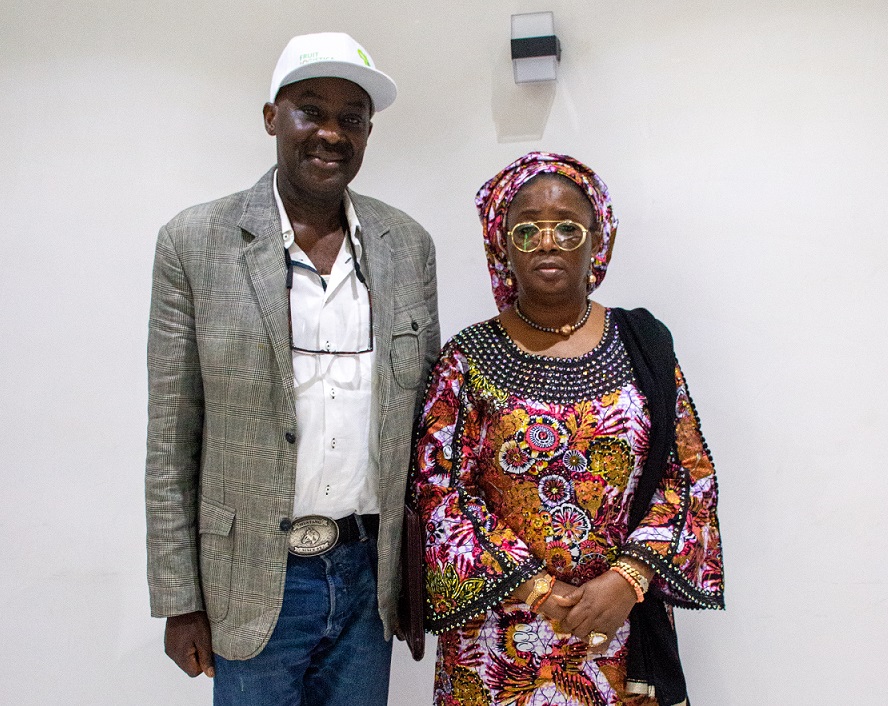 "As the Iyaloja General of Lagos (Matron of Markets in Lagos), Dr (Mrs) Tinubu-Ojo promotes the interests of traders in Lagos State and is currently extending her influence across the country by being a chief advocate for improved ease of doing business in Nigeria," Mr Okojie said.
"It's gratifying to note that the Iyaloja is channelling her experience, knowledge and networks in support of her father's administration," Okojie added.
Passionate about putting gender equality at the heart of economic development, Chief (Mrs) Tinubu-Ojo, who is usually addressed as Iyaloja General of Nigeria, also partners with both local and international NGOs with track records of excellence in women inclusion.
Also explaining the rationale for the Awards, Femi Awoniyi, CEO of the African Courier Media, said all efforts must be made to support democratically elected governments in Africa so that they can meet the expectations of their citizens.
"Recent coups in Africa show that many governments are not delivering the dividends of democracy which provide the excuse for military intervention," he added.
"It's therefore important now more than ever to back democratically elected governments in their development efforts. We are therefore proud to partner AGB Paulas and German Agribusiness Alliance."
"This Award is also a recognition of the Iyaloja's dedicated work to women's economic empowerment. We hope she will continue to inspire many young women in Nigeria to create a better future for generations to come", Awoniyi commented.
Among other dignitaries who will received International Recognition for Outstanding Contributions to Agricultural Business Development in Nigeria on 18 November are HRH Anslem Eidenojie II (The Ojuromi Of Uromi Kingdom), and top officials of the Federal Ministry of Agriculture and Rural Development, consisting of Dr Ernest Afolabi Umakhihe (Permanent Secretary), Engr A. M. Adebiyi (Director, Agribusiness and Market Development), Engr Frank Satumari Kudla (Director, Rural Development), and Engr Dr Taye Samaila Tehinse (Deputy Director, Rural Development).
Other awardees who have distinguished themselves in the development of agribusiness in Germany are Mr Frank Nordmann, General Manager, Grimme Germany, and Co-Chairman, German Agribusiness Alliance, Dr Karl-Heinz Knoop, Managing Director, Riela Germany, and Dr Franz -Georg von Busse, General Representative, Poettinger Austria.
The award ceremony will cap week-long activities, including visits to German companies by the visiting Nigerian delegation.
The delegates will also attend Agritechnica, one of the most prestigious international trade fairs in agriculture, from 12 to 18 November in Hanover. The event is also an excellent opportunity for networking, exploring the latest advancements in agriculture, and fostering collaboration between Nigerian companies and their international counterparts.
"We are convinced that collaborative partnership is the best way to deepen German-Nigerian business relations," Okojie said.
Sola Jolaoso
---
Organisations, companies and individuals interested in being featured at the 1st Hope Renewal Africa Awards should contact Mr Femi Awoniyi at f.awoniyi@theafricancourier.de