In an exclusive interview with The African Courier, Godfrey Chukwuemeka Evurulobi, CEO of Gosab Care GmbH, explains the opportunities for self-employment in the care sector in Germany for Africans and how you can easily get started in the business.
The Nigerian-born entrepreneur runs three companies – Gosab Personalmanagement und Consulting, Gosab Care GmbH and Gosabflex GmbH, from Cologne with branches in Bergish Gladbach, Bonn, Düsseldorf, Frankfurt, Munich and Hamburg.
He also introduces his company's unique franchise system and how it gives beginners in the care business a "soft landing".
——
The African Courier: What is a home or mobile health-care agency?
Godfrey Evurulobi: Home or mobile health-care agencies are companies approved by law to render care services to people at their homes, making it possible for such persons who regularly need help in everyday life to stay at their various homes to be cared for.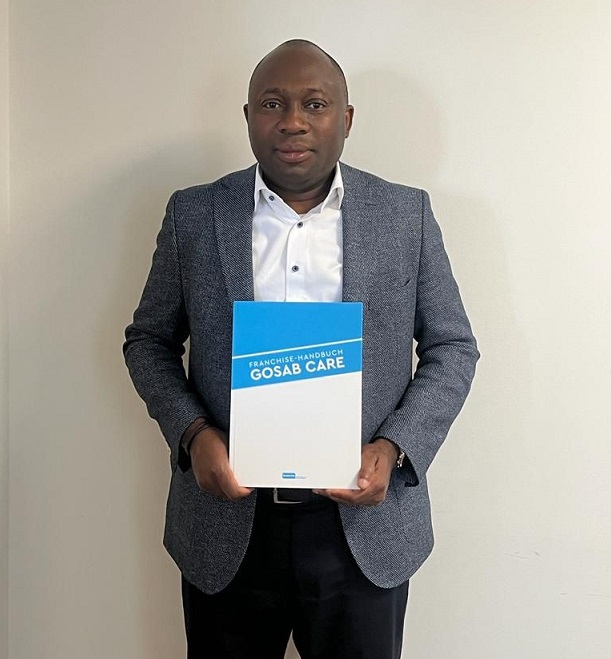 What are the duties of the home care workers?
They help their patients and customers with eating and drinking and dressing; they help with personal hygiene, cleaning the apartment; they help with wound care or injections, offer advice on nursing issues etc.
Why should I start a home care business in Germany?
People in Germany are getting older and the demand for outpatient care services is growing. If you are looking for a meaningful job and like being there for others, starting a nursing service might be right for you.
What does the business require of its practitioners? What does it take to successfully run a home care company?
In addition to our organisational processes and concepts, the emotional and psychosocial competence of the employees are of paramount importance for any care business to succeed. They should be able to empathize with the patients and support the customers individually and care for them according to their personal situation.
What support does your company offer those entering the business?
We offer them what I call soft landing! Meaning that they will ride on our years of experience to start a business in the care sector in Germany. As you know the health sector is the most regulated sector in Germany. With us as your partner, it would be very easy getting started in the business.
What are the steps to starting a home care business?
All the requirements as stipulated by the law must be fulfilled. These include employing qualified managers and workers, securing approval from the nursing and health insurance companies, registering at the health department, to mention but a few.
The growing demand for home care has led to more companies entering the market. How can a newcomer stand out and attract clients?
The answer is Gosab Care Franchise System! Be one of our partners and you will definitely stand out. I assure you that clients won't be your problem.
Your message to Africans interested in entering the home care business?
Please utilise the opportunity and join the Gosab Care Franchise System, you won´t regret it.
Don't be afraid you can start small and grow with time. Your advantage is that our concept has been tested and trusted. We will guide you from day one!
—
If you are interested to partner with Gosab, write to Godfrey.evurulobi@gosab-ambulante.de Or Aylin.dogan@gosab-ambulante.de
——
Introducing Gosab Care Franchise System
Gosab Care GmbH Ambulante and Intensive Care was founded in 2016 to care for a small child who needed intensive care help at home. Since then, we have made it our primary goal to achieve and maintain the best possible quality of life in the home environment because home is the most beautiful place.
We deliberately specialised in the field of outpatient and intensive care because we wanted to close a big gap in the care sector with our very successful concept. Every seriously ill person deserves to live in their familiar surroundings to be cared for.
Although we have gained a lot of experience over the years, we are still looking for challenges, ideas and partners who can support us in our heart desired role in the care sector. To help us spread and build the brand and concept in Germany and Europe. That is why we are looking for people with and without experience in the field of care who would like to become our franchise partner and walk this path with us.
With Gosab Care you have a reliable partner at your side that is well positioned and will support you with all your questions. With us, you have the opportunity to build up your company in a future market in order to secure your future.
You will receive our fullest support to become successful new entrepreneur/franchisee. We are there for you with all questions regarding training, care software, billing, approval by health insurance companies, registration with authorities and much more. You can also use our well-established network to acquire potential nursing staff.
Join us in a proven business concept in the growth market!
More about Gosab Care at: www.gosab-ambulante.de
---
READ ALSO Join the most profitable business for Africans in Germany – Gosab CEO