This year's season of African music and culture in Germany is taking shape. Here are the Top Festivals you don't want to miss before summer ends in 2023:
———————————-
Africa Festival Würzburg
26 – 29 May / Würzburg
The International Africa Festival has been existing since 1989 and is the largest and oldest festival for African music and culture in Europe. More than 7,504 musicians and artists from 56 countries of Africa and the Caribbean have performed in Würzburg so far and about 2.6 million visitors have heard, seen and tasted the cultural wealth of the African continent.
———-
Kenako-Festival Berlin
20 – 30 July / Berlin, Alexanderplatz
The flair of the African cultures comes to Berlin! Visitors can buy handmade art, clothing, cosmetics and food at the bazaar. The stage offers a cultural program of music, dance and theatre. In addition, What does Africa engagement look like in Germany? You will find answers to these and many more questions at the KENAKO Festival. Because on these days numerous organizations, associations and initiatives from all over Germany present their projects around Africa and the African Diaspora. The festival is celebrating its 10th anniversary this year which is why its program is very elaborate.
———-
Afrika-Festival Stuttgart
7 – 9 July / Stuttgart, Erwin-Schöttle Platz
Music, Fashion Show, Workshop, Film, Market, Culinary Pleasures etc,
"On stage we show you what Africa has to offer in music, dance and fashion. The rhythm of the continent will sweep you and make you dance and celebrate!"
www.Afrikafestival-Stuttgart.de
—————–
Afrikatage Landshut
8 –10 July / Landshut, Alte Kaserne
It will all be about African music, dance and fashion in and around the Old Barracks of Landshut for three days. The creative, colourful and varied Africa will be on display with 50 market stands, displaying musical instruments, fabrics, jewellery, shoes, masks, but also CDs, pictures and much more. Culinary specialties from West and North Africa ensure unusual culinary delights. International, antiracist and African projects are presented as well. Since 2002, the festival has contributed to putting Africa on the cultural calendar in Landshut and has gained an excellent reputation beyond the Bavarian town. The 15,000 to 30,000 festival visitors each year are a proof of its attraction.
https://afrikatage-landshut.de
—————
Sommerfestival der Kulturen
11 – 16 July / Stuttgart, Marktplatz
With the 20th Summer Festival of Cultures, visitors can expect great musical moments, an incomparable spectrum of culinary specialities and a diverse market of cultures.
www.sommerfestival-der-kulturen.de
——-
African Music Festival Emmendingen
4 – 6 August / Emmendingen, Schlossplatz
The rhythmic pulse of Africa has been beating in the middle of a city on the edge of the Black Forest since 2001. On the first weekend of August, Emmendingen will once again be the focus of African culture and, above all, the music of the continent.
In addition to the various workshops and an extensive supporting program, the world bazaar and the street parade should not be missed this year. The African Music Festival Emmendingen, with its line-up of talented artistes and supporting activities, promises its fans an unforgettable experience.
————–
MitAfrika Festival
4 – 6 August / Cologne, Schockoladenmuseum
Expected bright sunshine will attract many visitors to the "MitAfrika" festival at the Chocolate Museum. Culinary and arts and crafts as well as many colourful colours and children's attractions. Many participants may also take the opportunity to participate in the drum and dance workshops of Mama Afrika.
———————————————-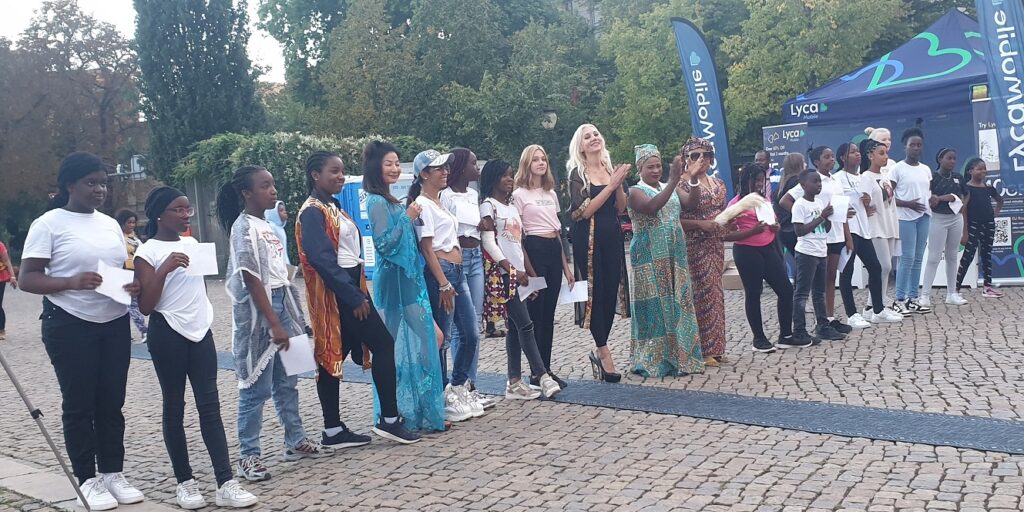 12th African Festival Potsdam/Brandenburg
11 – 12 August 2023/ Potsdam, Luisenplatz
Cultural displays/attractions, Presentation of Kings & Queens, Catwalk, Modelling, Fashion show, Melodrama, Theatre Dance, Choreography, Gospel Singers, Reggae music, Different Bands, Upcoming Artists, Food from different African countries, Children programmes, Cooking show, Tombola etc.
Special attraction: Parade from Peter & Paul Church through Brandenburger Str. till Luisenplatz Potsdam
Contact: 0152 337 149 48, 0152 11487 309, 017672735805