The Nigerians in Diaspora Organisation Worldwide (NIDO WW) has congratulated the Chairman/CEO of the Nigerians in Diaspora Commission (NiDCOM), Abike Dabiri-Erewa, on the confirmation of her reappointment by the Nigerian Senate.
President Muhammadu Buhari had earlier reappointed Ms Dabiri-Erewa to a second 5-year term, a decision that was approved by the upper chamber of the National Assembly on Tuesday.
A congratulatory message signed by Dr Bashir Obasekola, Chairman of NIDO Europe, said: "Having served meritoriously in your first term and asserted the relevance of the Commission, it is our belief that your second term will be used in solidifying the Commission and expanding the base of diaspora engagement in the pursuance of implementation of the Nigeria National Diaspora Policy."
The message, issued by Dr Obasekola on behalf of NIDO WW in his capacity as its current Coordinating Chair, added "While undertaking these tasks, please rest assured of our cooperation and readiness to continue to work with you and your Commission to achieve effective diaspora engagement for the benefit of our constituencies."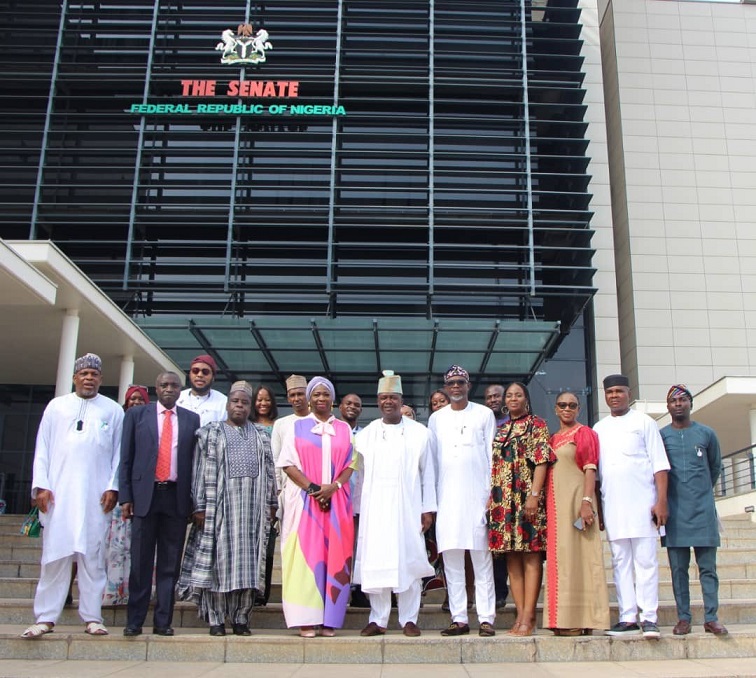 Members of the Senate Committee on Diaspora in a group photograph with Dr Abike Dabiri-Erewa and some senior officials of NiDCOM after the confirmation of the reappointment of the NiDCOM chief in the Senate on Tuesday/Photo: NiDCOM
NIDO WW, as the umbrella organisation for the diaspora Nigerians, said it was aware of the huge responsibility on its shoulder and the high expectations of the Commission.
"We equally know that in synergy and understanding, the Nigerian diaspora engagement will bring more dividends to all the stakeholders: government, people of Nigeria and the diasporas. Therefore, Honourable, permit me to extend to you our (NIDO's) hands of partnership, friendship and solidarity," Obasekola added.
"Coincidentally, your second term is starting with a new administration; hence we are sure that there will be a new look at the issue of the constitution of the NiDCOM Governing Board by the President; non-establishment of which has generated so much displeasure and misgiving amongst the diasporas," the NIDO WW leader said.
Mrs Dabiri-Erewa is the pioneer chairperson of NiDCOM, an agency under the Federal Ministry of Foreign Affairs. She was a former member of the Federal House of Representatives where she represented the Ikorodu federal constituency of Lagos State from 2003 to 2015.
In fact, she introduced the bill to set up the Commission in the House as chairman of the Committee on Diaspora Affairs.
The NiDCOM chief had also served as senior special assistant to the president on foreign affairs and diaspora.
The global diaspora organisation looked forward to working with Dr Dabiri-Erewa to make her second term "even more fruitful, inclusive and enduring".
NIDO is the single representative body recognized by the Federal Government of Nigeria as the umbrella organization for Nigerians in the Diaspora. NIDO WW has five continental zones, which are NIDO Europe, NIDO Africa, NIDO Asia, NIDO Oceania and NIDO Americas.
Femi Awoniyi
---