Chancellor Olaf Scholz wants to deport more rejected asylum-seekers. He made his intention public in an interview with the current issue of the weekly magazine SPIEGEL as his government has come under mounting pressure to tackle irregular migration.
In the interview with the weekly, the chancellor calls for tougher action against irregular migration. "We must finally deport on a grand scale those who have no right to stay in Germany," Scholz said.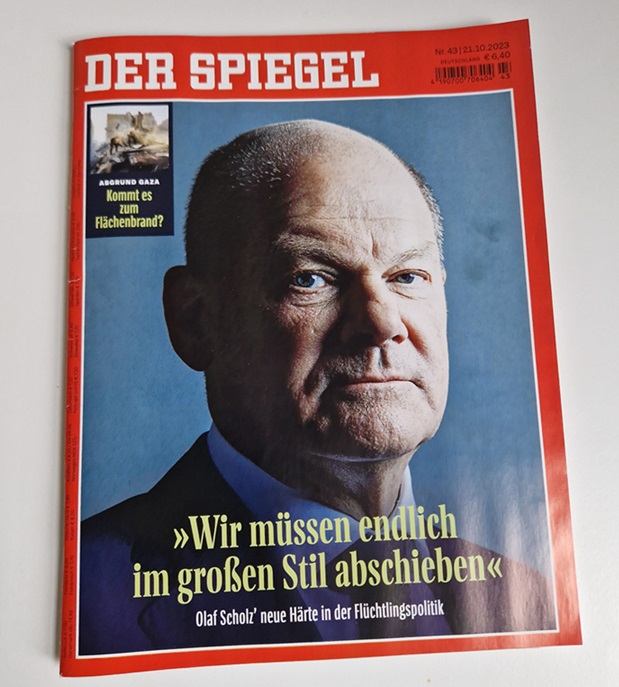 The SPIEGEL cover is widely circulated on social networks, sometimes earning the chancellor criticisms, sometimes cheering, especially in right-wing extremist circles.
Around 205,000 migrants applied for asylum in Germany between January and August this year, marking an increase of 77% compared with the same period last year.
Opposition lawmakers, who are increasingly instrumentalising the theme of migration and asylum in election campaign, are warning that the figure could reach 400,000 by the end of the year if the government does not take urgent measures.
Ruud Koopmans, a migration researcher at Berlin's Humboldt University, however, thinks Scholz's announcement is very difficult to translate into action.
"Deportations ultimately fail not because of the length of the procedures, but because of the lack of papers, unclear identities, countries of origin that do not cooperate and, last but not least, court decisions that block a deportation," Koopmans told the Bild newspaper.
Therefore, "the only really effective way is to ensure that people who are not in need of protection do not come to Europe at all". This can only be achieved by outsourcing asylum procedures to third countries, he said.
Germany, which is Europe's largest economy, remains a top destination for migrants and asylum-seekers arriving in the EU.
There are an estimated 280,000 migrants in Germany without a valid residence permit and who are obliged to leave the country. Around 1 million Ukrainian refugees are living in the country.
Femi Awoniyi