The 3rd edition of the Conference of African PhDs in Germany (#CAPiG) will take place from 4 to 9 September 2023.
This year's Conference will be held as a hybrid event – with an online component (4 – 7 September 2023) complementing the face-to-face meeting in Hamburg, Germany (9 September 2023) .
CAPiG was conceived to bring together African intellectuals in Germany, including PhD graduates in the industry and academia, current PhD candidates and prospective PhD candidates.
The main objectives of the Conference are:
to create a platform for networking, knowledge sharing & capacity building
to provide sustained mentorship for African Scholars
to promote knowledge and technology transfer to Africa
The Conference began in 2021 and has so far attracted over 600 participants globally.
The theme of this year's event is "African Scholars as Critical Bridge for African Development".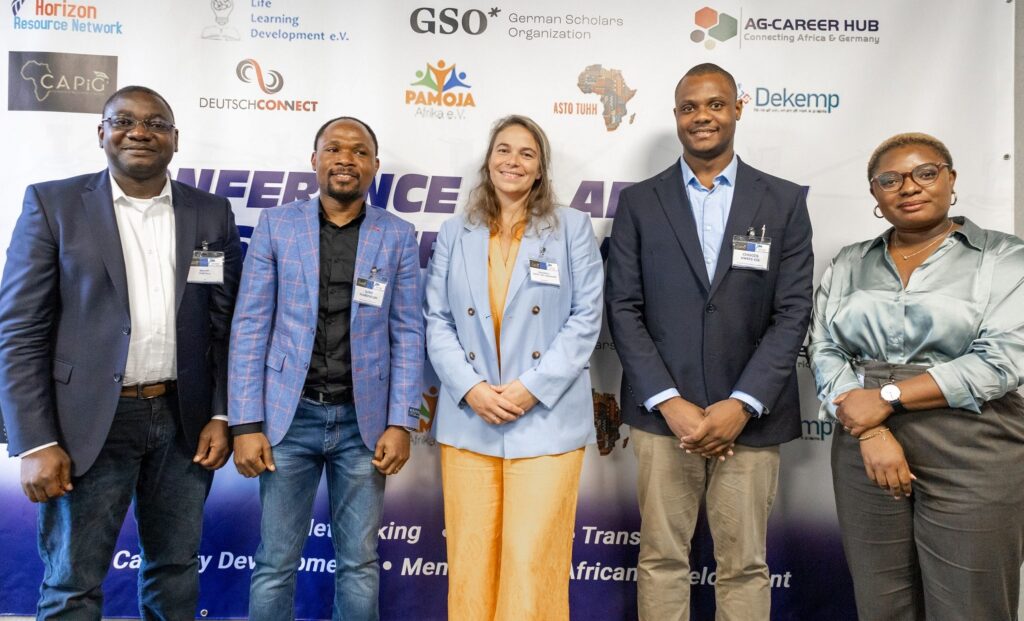 Dr Taiwo Fagbemigun, Director of Horizon Resource Network e.V., organisers of the conference (2nd from left), and some participants at the 2022 CAPIG/Photo: HRN
At #CAPiG3.0, participants look forward to an exciting opportunity to exchange knowledge, share ideas, gain new insights and explore possibilities available for African Scholars to serve as critical bridge for African development.
To do so, #CAPiG3.0 will offer a series of seminars, keynote addresses, workshops and talks focusing on career & professional development, academia-industry transition, mental health management, networking, entrepreneurship, leadership, grant writing, and PhD & Postdoc scholarship/fellowships, innovation management, business development strategies etc.
Furthermore, #CAPiG3.0 offers the opportunity for PhD students and early career researchers to present their ongoing research and receive essential feedback from experienced colleagues with expertise in their field of study.
Therefore, the organisers invite contributions (paper & poster presentations) from an interdisciplinary perspective that will empower and shape the mindset of the conference participants.
The Conference of African PhDs in Germany is organised by Horizon Resource Network, a not-for profit organisation promoting the integration of migrants in Germany through education and socio-cultural empowerment.
The conference is supported by Life Learning Development e.V., German Scholars Organisation and Aloes Research Education and Development.
CAPiG Team comprises African Scholars of repute led by the convener of the conference – Dr. Taiwo Fagbemigun
For more information, visit the website of CAPiG at https://capig.de/
___________
READ ALSO Join the African-German Doctoral Summer School 2023!