Forty Nigerians, including single mothers and their children, were forcibly deported to Lagos by German authorities on Monday (21 October). The chartered flight arrived Lagos airport in the afternoon around 4pm, according to Network of Refugees for Refugees, a Stuttgart-based migrant self-organisation that monitors deportations from Germany.
The latest deportation followed the repatriation of 19 Nigerians from Germany on 19 August. Deportees are mostly those whose asylum requests have been rejected.
A spokesman for Refugees for Refugees, Rex Osa, said the deportees were simply dumped outside the gate of the airport on Monday without any arrangement to receive them or give them money for their transport to their various destinations in the country. His organisation, working in collaboration with Initiative Supermum Charity, a women empowerment group in Nigeria, took the single mothers and children among the deportees to a hotel for their temporary accommodation before proceeding to their final destinations.
Osa, who witnessed the arrival of deportees who were returned on 19 August in Lagos, criticised both the German and Nigerian governments on the way deportees are treated. "Many of the deportees roam about in Lagos and are homeless because no provisions had been made by the Germans or our own government for their dignified reception," he added. "As I speak now, many deportees live in uncompleted buildings in Lagos with nobody looking after them."
Osa also accused the Germans of violating the human rights of the migrants, many of whom, he claimed, were not supposed to be deported going by the laws and regulations governing deportation in Germany. "The single mothers and their children are not supposed to be deported if there is no arrangement to properly rehabilitate them in Nigeria," he said. "That is the regulation in Germany."
Also, some of the deportees are seriously ill and since the public medical facilities in Nigeria are non-effective, their lives would be endangered if sent back home where an adequate treatment for their ailments are not assured, he explained.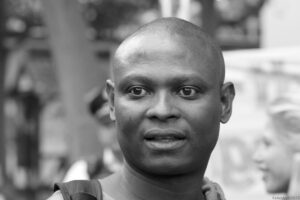 The returnees who were repatriated on 19 August narrated to The African Courier's correspondent in Lagos how they were handcuffed and their feet shackled for the entire duration of the 6-hour flight from Germany to Lagos. Some of them also complained that they were sick and should not have been forcibly returned in their condition. According to the deportees, one of them was seriously ill during the trip and had to be constantly given drugs and injections by the doctors on the flight.
Osa also talked about the fact that some of the returnees worked for several years in Germany and made contributions to the pension scheme and since they had been sent back to their home country, these contributions are supposed to be paid out to them. This, he said, is not done. Refugees for Refugees had taken it up to ensure that the returnees are paid back their pension contributions.
READ ALSO 17,000 migrants deported by Germany in 9 months; MP calls for amnesty
Osa said the Nigerian embassy issues travel papers to the returnees on the basis of wrong information provided by the German authorities. He explained that there were clear rules governing deportation and there're categories of migrants who are protected by German laws and regulations from being deported. These rules are regularly violated by the German authorities, he alleges.
Nigeria's ambassador to Germany, HE Yusuf Maitama Tuggar, has always maintained that the embassy does not issue travel certificate when any Nigerian is being unduly deported.
Speaking during a meeting with a delegation of Edo Community in Germany in August, Alhaji Tuggar called on Nigerians to dismiss rumours making the rounds that the embassy was colluding with the German authorities. "We will not support any efforts to remove any Nigerians unjustifiably," he assured.
Osa called on Nigerian associations in Germany to pay closer attention to the plight of their less-fortunate compatriots, especially the asylum-seekers and those who don't have residency rights, to be able to support them.
"Deportation aboard chartered flights is expensive; the German government should use these resources to integrate these people instead of wasting them in sending them back home," he said.
Sola Jolaoso
READ ALSO Deported Nigerians: Germany violated international agreements – say activists